Simple yet stylish – Happyfit Active Dress with Built In Sports Bra & Shorts
Terusan lengkap all in one sudah termasuk sport bra & celana pendek. Nyaman dipakai untuk casual maupun olahraga tennis, lari, zumba, dan fitness. Bahan kain cepat menyerap keringat, ringan, nyaman, lembut, tebal, cepat kering & elastis.
Bra Support: Medium to Low
Bra Padding: Removable Pads
Neckline: U-Neckline
Material: 80% Nylon + 20% Spandex
Product Details:
– Tali bahu lebar
– Model punggung U-shaped
– One piece lining, termasuk sport bra & celana pendek (tidak dapat dilepas)
– Bahan tebal anti jeplak
– Memberikan kesan pinggang tampak lebih ramping
– Terdapat kantong di bagian celana, bisa untuk menyimpan HP atau bola tennis
Tersedia dalam 3 warna: Black, White, Army Green
Model menggunakan size S – tinggi badan 172cm, lingkar dada 78cm & lingkar pinggang 62cm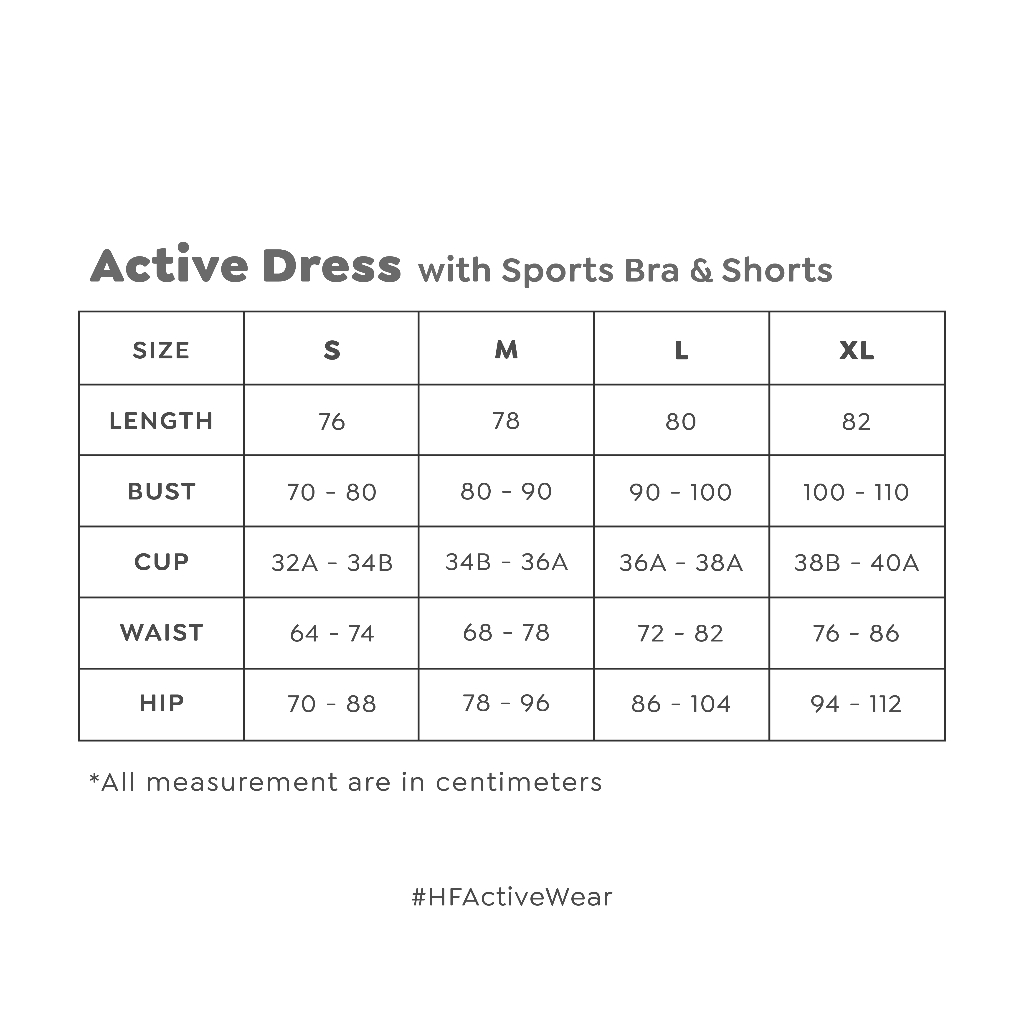 Elastic Fit Technology & Sweat Absorbent Technology
Happyfit Active Wear terbuat dari bahan yang memiliki elastisitas yang sangat baik, sehingga dapat menyesuaikan dengan bentuk tubuh dan dapat memberikan kebebasan bergerak kepada pemakainya. Happyfit Active Wear juga menggunakan bahan dengan teknologi penyerapan keringat yang baik, sehingga tubuh tetap kering, sejuk, dan nyaman walau berkeringat.
Instruksi Perawatan:
1. Cuci dengan air dingin dan gunakan detergen yang netral
2. Setelah mencuci, putar secara ringan dan keringkan di tempat yang dingin
3. Jangan gunakan pemutih atau seterika
4. Cuci menggunakan tangan agar menghindari kerusakan pada elastisitas
5. Cuci baju berwarna terang secara terpisah